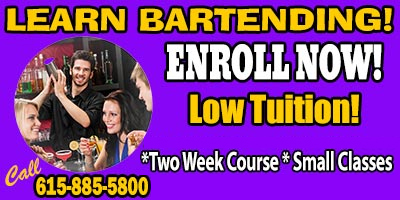 The Professional Bartending School opened its campus in Nashville in 1992, and has been under the direction of David Edwards ever since opening. Our bartending school is centrally located and is only a 15 to 20 minute drive from most areas of Nashville. Our campus is in a nice, safe area of Nashville with plenty of well-lit parking. Our campus is easy to get to and nowhere near downtown to avoid Nashville traffic or navigating through downtown. Others have come and gone but the Professional Bartending School of Nashville has continued to be the leader in the bartending industry locally and nationwide for over 29 years.
Call us at (615) 885-5800 and let us help you to get into the fun and profitable career of bartending!
Our school has placed thousands of graduates in the Greater Nashville area, as well as having placed graduates throughout the United States.
Bartending is a fun and profitable career. During good times and bad times, people drink. Our job placement department has an abundance of part-time jobs, full-time jobs, and private parties. Our bartenders average $150.00 to $400.00 a night in wages and tips.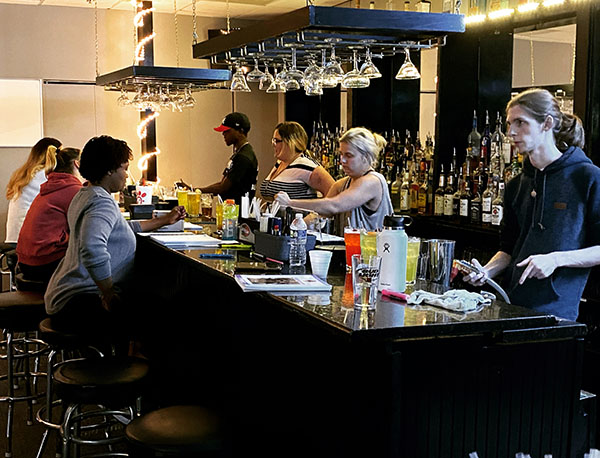 COME VISIT OUR SCHOOL FOR A FUN TOUR!
You owe it to yourself to come and tour of our campus to see if bartending is right for you. We always have an abundance of p/t and f/t jobs as well as private events like weddings that pay $25.00 an hour plus tips through the school.
Some of the surrounding communities we serve locally include: Clarksville, Cookeville, Dickson, Brentwood, Goodlettsville, Hendersonville, Mt. Juliet, La Vergne, Franklin, Smyrna, Gallatin, Springfield, Lebanon, Spring Hill, Murfreesboro, Portland, Columbia, and many other areas!
Call us now at (615) 885-5800